The 30-Second Review
Most of us have searched for jobs online. That's where the postings are, right? Yes, but that's not where the hiring is done. According to the experts we talked to, the best job sites will have fresh, frequent, and relevant unique posts, as well as a scraping algorithm that helps aggregate posts from other places on the web.
Best Overall
Like Yelp, but for the job seeker. Our experts said what really gets you the job is all the metadata these sites provide: What companies are hiring? Who do you know who already works there? And, can you tell if you'd actually love that job? That's where our top pick excels.
Twenty-five years ago — before the commercial rise of the internet — job seekers attended career fairs, scanned the classified section of newspapers, or heard about openings through word-of-mouth referrals. Good, old-fashioned networking is still the number one way to land a job, but the way we look for jobs has changed dramatically. Today, it's all online.
Best Overall
Glassdoor Start your search here. It had the most new posts a day and it has detailed company profiles so you can see if you're a fit.
The best place for you to start looking for a job is Glassdoor. In our tests, it had the most new jobs posted every day. It complements that freshness with an in-depth look at the companies posting them. These eye-catching multimedia company profiles are balanced with anonymous feedback from current and former employees on culture, salary, and the CEO — there are even charts to show how a company's rating has changed over time. Glassdoor gives you both the info you need to find job opportunities and the context to see if it's a good fit for you too.
When it comes to pure coverage, though, Indeed is the heavy hitter. Its aggregation algorithms were unparalleled in our test, meaning there's a better chance that jobs posted on other random job boards, sites, and companies across the web will show up here. Plus, it's one of the only sites from our top picks that lets employers post openings for free, making it a first stop for lots of companies. It's pretty bare-bones, though, and because it's such a good aggregator, you often get ping-ponged between job sites, instead of the actual job posting, which leads to a less-than-stellar user experience.
We can't not mention LinkedIn. When it comes to job posting, it's middle of the pack, especially compared to Glassdoor and Indeed. But it's such a powerful working tool we'd be remiss not to recommend it. LinkedIn's most powerful feature: It shows job seekers networking pathways to help score introductions, the first step to getting an internal referral.
Our Picks for the Best Job Sites
Best Overall
Glassdoor So much more than job postings: a place to find out if you would actually like working for a particular company.
One of our testers put it best when she said this site has "good vibes." From seamless usability, to top marks across every one of our tests, to a surplus of valuable intel, Glassdoor makes job hunting more enjoyable and more efficient than any of its competitors.
The home page is colorful without being garish. It has a streamlined focus, with a feel-good call to action: "Get hired. Love your job."
When you search — which Glassdoor conveniently saves for future visits — open positions pop up in a column to the left, while the job description appears in a preview window to the right. You can scroll and click around without losing your place or opening new tabs. That's right: no new tabs.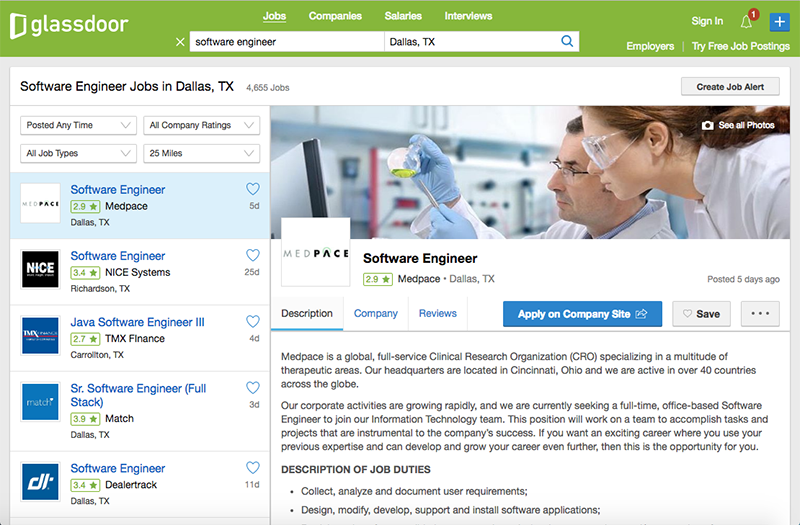 You can search jobs without an account, but it's free to sign up and worth it to unlock Glassdoor's best tools — all of which transfer seamlessly to its mobile app.
Glassdoor acts a little like Facebook for brands. Companies have access to multimedia templates to customize their profiles: They can upload logos and cover photos, and organize stats about their size, industry, headquarters, and founding year into one tidy sidebar. A "Why Work for Us?" section accommodates photo slideshows, behind-the-scenes videos, salary info, and reviews by current and former employees. Companies can even respond to reviews, which makes it a lot like Yelp for the job seeker.
Easily digestible graphics break reviews down by topic (think Culture & Values, Work/Life Balance, and Comp & Benefits), and even show how they've trended up or down over time. It was enough to make our data-loving hearts go pitter-patter — and resonated deeply with Dalton's advice about meta information. Reading a robust Glassdoor profile was like hunting for clues about that company.
Glassdoor also blew industry favorites out of the water with its frequency of posts (remember, it averaged 22 posts a day), was only 2 points shy of the quality winner, and was the only site to score among the top three in all six of our tests.
For companies looking to fill open roles, it's free to create an employer account, build a company profile, respond to reviews, and see who is viewing their page. Companies can also pay for an enhanced account, which includes features like advertising on competitor profiles (tricky!) and featuring specific employee reviews. Glassdoor does require a fee for job postings. That pricing isn't posted on the site, but after some emails with a rep, we learned: It depends. This was the case with both Glassdoor and LinkedIn — location will affect the price of a job post (a job in New York might cost $349 to post, while the same job would be only $299 in Chicago), prices for company packages can vary. Jamie from Glassdoor told us that prices can range from $99 for one job post per month up to $599 for 10 job posts per month.
We only had two turn-offs.
Unlike our other top picks, none of Glassdoor's posts were labeled as "sponsored," even when they were. After some digging, we learned companies are able to pay for better placement. The fact that Glassdoor doesn't call attention to this is misleading to job hunters, but it didn't seem to negatively impact the quality of its search results in our testing.
Glassdoor also auto-subscribed us to emails in addition to our requested job alerts. The topics were interesting enough, with subject lines like, "11 Jobs That Are Safer During a Recession," and, "25 Highest Rated Companies for Vacation & PTO," but if your inbox is overflowing (we hear you), you have to go through the clicks to unsubscribe.
Overall, these minor annoyances are a small price to pay for a site that does more than just relay job openings. It gives you a better sense of a company's culture so you can target your cover letter and resume, prepare for interviews, and take a sneak peek into whether or not a company is a good fit for you.
Most Comprehensive
Indeed Bare-bones search results, and lots of them make Indeed the Google of job sites
The numbers don't lie: Indeed had the best overlap and came in a strong second place in frequency of posts. Its straightforward design doesn't waste time on a multimedia interface — in fact, its looks are borderline boring. Ultimately, though, the no-BS approach won us over. And we're not the only ones: Indeed garners overwhelming praise from experts, recruiters, and critics alike.
"I think it's the most comprehensive," Dalton said. "A few years ago I did a head-to-head analysis with perhaps its best-known competitor, SimplyHired, and it consistently returned a greater number of results."
"The first thing that comes to mind is breadth of coverage," agreed Ed Rogan, a recruiter with more than 20 years of experience and the founder and principal consultant of Sqr-2. Tenneti said he prefers LinkedIn, but can see the appeal of Indeed. "It's the Google of jobs sites. People are attracted to the no-frills layout, especially when applying for jobs."
Indeed is also the best deal for employers: Jobs are free to post. That's likely why it is able to beat out more tool-heavy sites when it comes to breadth and overlap. More people are simply posting more jobs on Indeed.
Indeed also hosts sponsored job posts starting at $5 a day, although it can add up quickly — pricing is based on how many times users click on a sponsored post, regardless of whether or not they apply to the role. Sponsored posts sit at the top and bottom of every search query and are tagged with a purple "Sponsored." Free posts are slotted in between; there are about five sponsored posts for every 10 free posts.
If you have strong feelings about the type of job you're served up, Indeed has way more filters than Glassdoor, with an advanced search that can filter by salary, job type (internship, full-time, contract, etc.), and experience level. It has a salary calculator that indicates how much you can expect to make based off the responses of different employees.
But its real strength is in numbers — namely, the number of job postings you'll have access to.
Best for Networking
LinkedIn Not the best place to find postings, but it's where the majority of recruiters find their best candidates.
LinkedIn was in the middle of the pack through all our testing — it was never number one, and never in last place. From a job posting standpoint, it's not great. But because networking is such a critical component of job hunting, it would be ridiculous not to include LinkedIn as one of the best job sites. Even if you don't have access to as many job postings as you would with Glassdoor or Indeed, LinkedIn should definitely be part of your job-hunting toolkit.
Need proof? According to Jobvite's 2015 Recruiter Nation Survey, 92 percent of recruiters polled said they used LinkedIn as part of their hiring process. Fifty-six percent said they find their best candidates through social networks, like LinkedIn.
Rogan is one of those recruiters. "If someone applies for a position, I almost always look them up on LinkedIn. It's also a great way for young professionals to establish and enhance their local network," he said. "My best advice is to engage the community. Often people see LinkedIn as a static, web-based resume, but if you get involved with other aspects of the site, it can have a positive, long-term impact."
Those other aspects include active discussion forums, messaging capabilities, news feeds, and customizable personal profiles. Most importantly, it shows job seekers networking pathways to help score introductions and those coveted internal referrals.
LinkedIn is a valuable tool for job seekers and employers alike. And while a basic profile for job seekers is free, the price for employers can climb pretty high pretty quickly. A Silver Plus Package, for example, which lets you create a customized career page and run targeted ads might run $10,000 per year. Posting jobs with that same package is a whopping $1,500 a pop. You can get away with posting jobs for less without signing up for a package, but like Glassdoor, the final bill will depend on what job you're posting and in what city. High pricing is very likely the reason LinkedIn's performance as a job board is a little lacking.
Other Job Sites to Consider
JobisJob. We didn't want to say goodbye to JobisJob, but couldn't justify placing it among our top three. It has international reach (great for someone with wanderlust), held its own — and even outperformed in a few categories — against the more well-known sites, and even snagged the top spot in our email alerts tests, even though it ultimately stumbled. JobisJob also has a geographic hot spot tool that shows where the most thriving job markets are. Ultimately though, the site relied too much on other aggregators, which affected the quality of its results. It was also too sporadic in how frequently it was updated. While we can't wholeheartedly recommend it, it's worth considering, especially if you're looking to find work abroad.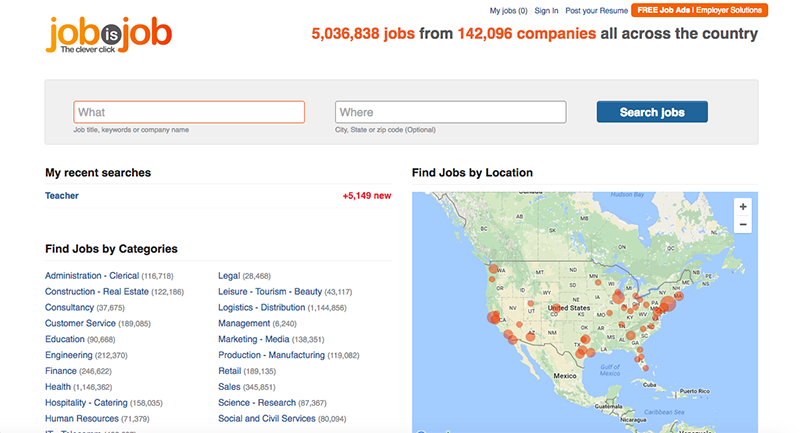 We left niche job sites out of our initial list of contenders, but they can be helpful if you have a narrower field of focus. Rogan's job-posting philosophy definitely targets niche sites. "I'll post on three or four very general sites, like Indeed," he told us, "and two or three sites that are specific to the industry."
Dice is top dog for STEM (science, technology, engineering, and math) jobs, with a focus on technology, security clearance, financial services, energy, and health care jobs. Corporate giants like HP, Deloitte, and Dell all post here, and its site boasts a career center and insights tab with hundreds of blog posts, studies, and forums centered on getting hired in these fast-growing fields.
MediaBistro is ideal for individuals working in advertising, marketing, public relations, and journalism. It's a favorite among major news outlets and media powerhouses, and also includes resources for freelancers in its Freelance Marketplace, as well as training courses and career services like resume and LinkedIn profile building.
Snagajob is geared toward part-time gigs and specializes in hourly jobs — perfect for a side-hustle or short-term contracts. It also offers specific advice related to hourly workers, with interview tips, blog posts, and a video series.